Hi everyone!
I'm so glad that Bobby created a blog for us. Was kinda bummed at first when I saw that there wasn't really a place for the students to interact. Thanks Bobby! I found some of our classmates on deviantART through their blogger profiles and got to see some of your personal artworks; it seems that we've got a lot of people from different backgrounds and countries and quite a variety of different styles. Which is awesome. :D Talked to Jon-Troy [Hazardous] on MSN so far, and hopefully more will join in. (I'm using the e-mail on
my profile
for my MSN account, so if you're on MSN add me up!)
Back to what's relevant, here are my first 3 assignments. Muscly (Metalic ><) Guy, The Stand and the, um, creature.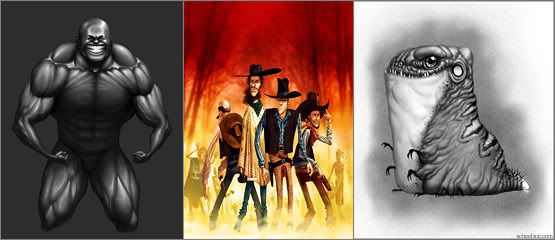 And here's my extra assignment for Lesson 2: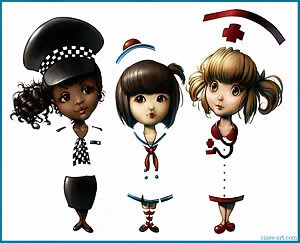 Gif animation to show painting progress.
Wanted to try out different skin tones. Did this with the techniques learned in Lesson 1 and 2. If anyone wants to try colorizing skin tones for practice, here's a larger version of my painting before adding color and before cleaning up.
[link]
If you post it anywhere else, please credit me.
Feel free to critique or even totally stomp on my work if you see anything wrong, because I really want to improve. Thanks in advance!
P/s: I forgot to introduce myself. I'm Ciaee, 22 this year, Malaysian Chinese, just graduated from art school, currently working (sort of) as a freelance illustrator, and love drawing and painting a lot... but prefer sleeping.